Thu 9:00 AM - 9:00 PM
Fri 9:00 AM - 9:00 PM
Sat 9:00 AM - 9:00 PM
Sun 10:00 AM - 7:00 PM
Mon 9:00 AM - 9:00 PM
Tue 9:00 AM - 9:00 PM
Wed 9:00 AM - 9:00 PM
Thu 9:00 AM - 9:00 PM
Fri 9:00 AM - 9:00 PM
Sat 9:00 AM - 9:00 PM
Sun 10:00 AM - 7:00 PM
Mon 9:00 AM - 9:00 PM
Tue 9:00 AM - 9:00 PM
Wed 9:00 AM - 9:00 PM
This Store Carries
Women's Plus Collection
Boys Collection
no levi.com or Levi's retail store returns accepted
More stores near Mebane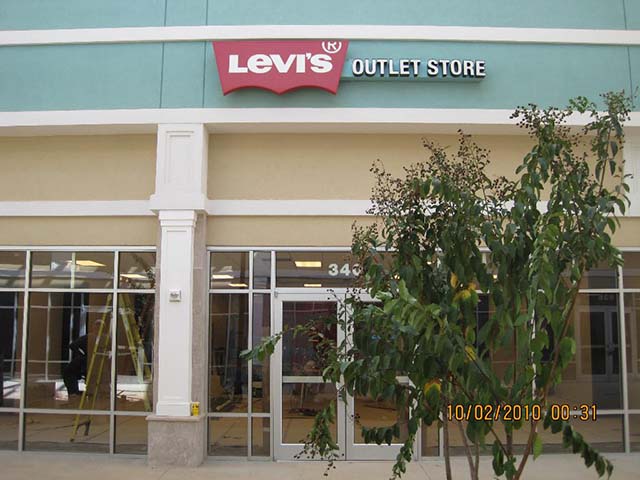 no levi.com or Levi's retail store returns accepted

no levi.com or Levi's retail store returns accepted

no levi.com or Levi's retail store returns accepted

no levi.com or Levi's retail store returns accepted
Levi's® Outlet Denim & Jeans Store at Mebane
Visit our Levi's denim store at 400 Arrowhead Blvd in Mebane when you want to update your closet with iconic pieces that help you build a classic wardrobe that never goes out of style. Near a broad assortment of accommodations, eateries and attractions, our jeans store is in the Tanger Outlets just north of I-40/I-85. Use Exit 154 and head northwest on Mebane Oaks Rd and then turn right onto Arrowhead Blvd. Park in the lot at the first entrance to the Outlet Center after exiting the highway. Signs in the parking area provide specific directions as you enter the Center's walkways.
Iconic American Denim
Whether you love cutting-edge designs and the latest fashions or embrace the vintage vibe, Levi's® has a style for you.
For him, we have Levi's® 510™ Skinny and 512™ Slim Tapered Fits. They deliver Levi's® quality with a modern fit.
For her, the 715 and 720 from Levi's® Premium collection are designed with figure-flattering technologies and contemporary silhouettes.
An American original, the 501® makes a statement, whether you're stepping out to run errands, grab cocktails or head out on the trail.
Choose from a broad assortment of tees, tanks, sweaters and western shirts to top our jeans for an easy-care outfit. Add a leather belt, sunglasses and other accessories to complete the all-American look.
Durable Enough For Kids
For kids who play hard, Levi's® durability is hard to beat. Reinforced knees, adjustable waistbands and extra room in the seat help them last through the next growth spurt. Our jeans are strong enough to hold up when they slide into home base, take a tumble on the playground or wipeout on the skateboard. Pick up a few graphic tees, sweaters and hoodies that are soft and comfortable against the skin, to mix and match all year long.
Call our Levi's® jean store at 919-304-4061 for more information about our location and current inventory.