Tue 10:00 AM - 9:00 PM
Wed 10:00 AM - 9:00 PM
Thu 10:00 AM - 9:00 PM
Fri 10:00 AM - 9:00 PM
Sat 10:00 AM - 9:00 PM
Sun 11:00 AM - 7:00 PM
Mon 10:00 AM - 9:00 PM
Tue 10:00 AM - 9:00 PM
Wed 10:00 AM - 9:00 PM
Thu 10:00 AM - 9:00 PM
Fri 10:00 AM - 9:00 PM
Sat 10:00 AM - 9:00 PM
Sun 11:00 AM - 7:00 PM
Mon 10:00 AM - 9:00 PM
no levi.com or Levi's retail store returns accepted
More stores near Park City

no levi.com or Levi's retail store returns accepted

no levi.com or Levi's retail store returns accepted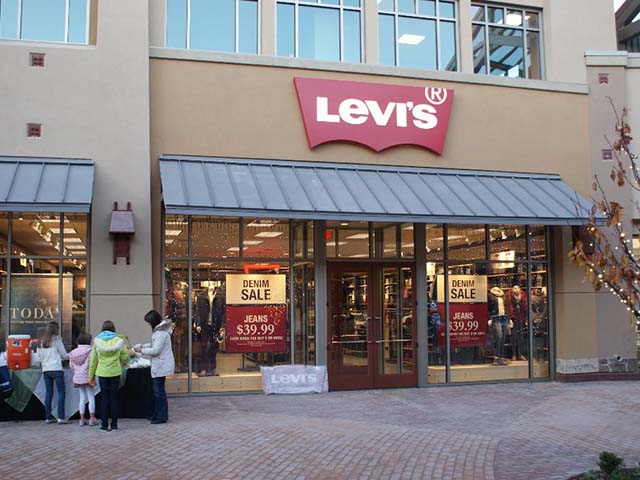 no levi.com or Levi's retail store returns accepted
Levi's® Outlet Denim & Jeans Store at Park City
Park City, Utah is the home of the Sundance Film Festival, as well as the ski resorts that played host to ski and bobsled events at the 2002 Winter Olympics. It's also the home of the Outlets Park City, where you'll find our Levi's® jean store and some of the most comfortable clothes on the planet. Whether you visit this mountain city during the summer or winter seasons, be sure to stop by and stock up on Levi's denim.
Choose From a Range of Styles
Summer in the Wasatch Mountains offers camping, fishing, mountain biking and more, while skiing and snowboarding are winter's top attractions. All of these activities call for the rugged durability and outstanding fit and comfort of Levi's® jeans. Choose your favorites from a range of fits and styles, including the following:
Slim
Skinny
Super Skinny
Relaxed
Straight
Bootcut
Wedgie
Boyfriend
Cropped
You'll also find music and film festivals, as well as plenty of restaurants, bars and nightlife — a myriad of attractions that'll have you dressing up your denim. Levi's® has you covered with clothing that ranges from crewneck sweaters and Western shirts to blouses, rompers and more for men and women.
Quality Means Dependability
Levi's® denim is synonymous with dependability. Our quality jeans have stood up to the rigors of miners, laborers across a range of industries and the rough-and-tumble play of kids of all ages. Constructed in our unique fits that only get better with time, Levi's® clothing is known and loved the world over.
Visit the Levi'® Outlet at Outlets Park City
Shop our denim store at the Outlets Park City for styles to take you through any season. You can find us north of Park City, just off Interstate 80 at Kimball Junction. From the interstate, exit at Highway 224 and follow North Landmark Drive to reach our mall, where you can find us on the east side. Get more store and inventory information by contacting us at 435-649-1828.