Tue 9:00 AM - 9:00 PM
Wed 9:00 AM - 9:00 PM
Thu 9:00 AM - 9:00 PM
Fri 9:00 AM - 9:00 PM
Sat 9:00 AM - 10:00 PM
Sun 10:00 AM - 7:00 PM
Mon 9:00 AM - 9:00 PM
Tue 9:00 AM - 9:00 PM
Wed 9:00 AM - 9:00 PM
Thu 9:00 AM - 9:00 PM
Fri 9:00 AM - 9:00 PM
Sat 9:00 AM - 10:00 PM
Sun 10:00 AM - 7:00 PM
Mon 9:00 AM - 9:00 PM
This Store Carries
Women's Plus Collection
Boys Collection
no levi.com or Levi's retail store returns accepted
More stores near Locust Grove
no levi.com or Levi's retail store returns accepted

no levi.com or Levi's retail store returns accepted

no levi.com or Levi's retail store returns accepted

no levi.com or Levi's retail store returns accepted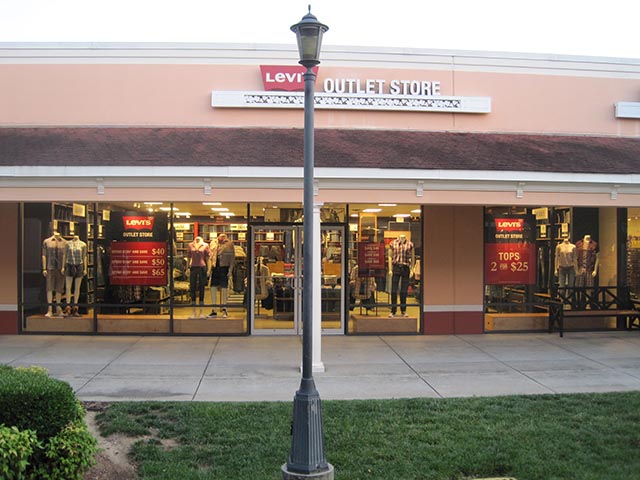 no levi.com or Levi's retail store returns accepted

no levi.com or Levi's retail store returns accepted
Levi's® Outlet Denim & Jeans Store at Locust Grove
A pair of Levi's® jeans is a solid foundation for the perfect outfit, whether you need something for a chilly fall afternoon or a summer morning by the lake. When you're ready to find the right size and style, stop by the Levi's® store at Tanger Outlet Center Locust Grove. We have a wide selection of pants, shirts and accessories.
You can find our denim store just east of I-75 at 1000 Tanger Drive. The outlet center is south of Bill Gardner Parkway and right next to Southern States Lake. Within the shopping center, we're located on the northwest corner overlooking Tanger Drive.
Premium Denim and Quality Craftmanship
Levi's® has a reputation for crafting durable clothing that combines timeless style with original details. Our brand got its start over 100 years ago, outfitting cowboys with rugged denim designed to withstand tough work and remain comfortable. Levi's® has continued to pair durability with ease, providing iconic outfits for professional musicians for decades. Our unwavering commitment to quality and global responsibility means you can enjoy your Levi's® clothing for years to come.
Authentic Clothing for Everyone
With all the sizes and styles available at our denim store, you're sure to find the right pants for work, weekends and outdoor adventures. Our men's collection includes classics such as 501® jeans and 511™ Slim Fit styles. Women have several options to choose from, including these:
Slim Fit
High Rise
Skinny
Bootcut
Straight
We carry comfortable Trucker Jackets, which are available in lined or unlined styles. You can also find hoodies, crewneck sweaters and Western shirts.
Upgrade Your Style at Our Levi's® Outlet Store
The right pair of jeans can be an excellent addition to your closet. When you choose Levi's® clothing, you can enjoy pieces that become more comfortable each time you wear them. Our collection of men's and women's items at our Locust Grove jean store offers timeless styles and modern designs. Find out more about the Levi's® brand and our store hours by calling us at 770-898-0667.