Tue 10:00 AM - 9:00 PM
Wed 10:00 AM - 9:00 PM
Thu 10:00 AM - 9:00 PM
Fri 10:00 AM - 9:00 PM
Sat 10:00 AM - 9:00 PM
Sun 10:00 AM - 6:00 PM
Mon 9:00 AM - 9:00 PM
Tue 10:00 AM - 9:00 PM
Wed 10:00 AM - 9:00 PM
Thu 10:00 AM - 9:00 PM
Fri 10:00 AM - 9:00 PM
Sat 10:00 AM - 9:00 PM
Sun 10:00 AM - 6:00 PM
Mon 9:00 AM - 9:00 PM
no levi.com or Levi's retail store returns accepted
More stores near Destin

no levi.com or Levi's retail store returns accepted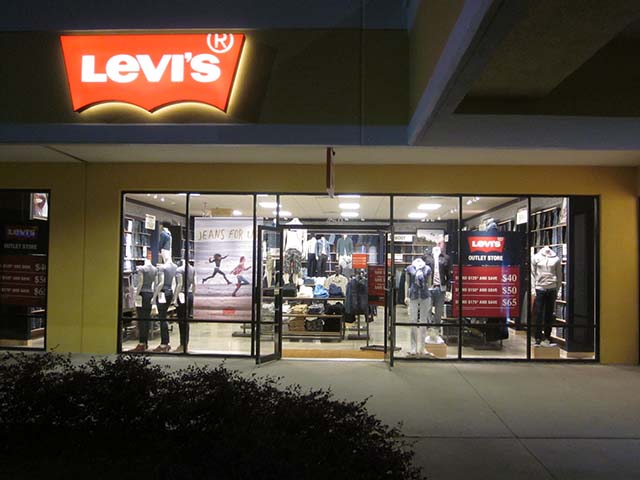 no levi.com or Levi's retail store returns accepted
Levi's® Outlet Denim & Jeans Store at Destin
Destin is a popular destination for tourists near and far, who come to enjoy white-sand beaches, world-class resorts, recreation and shopping. The Levi's® Outlet at the Silver Sands Factory Stores is part of the attraction, with world-famous jeans and more available in our denim store. Whether you're a local Floridian, a visitor from another state or from across the sea, equip yourself for a comfortable, enjoyable stay with Levi's®.
Comfortable Styles That Can Go Anywhere
Levi's® jeans set the standard for comfort. Our denim goes everywhere, with styles to take you from sun-up to sundown and appeal to people of all ages and walks of life. We make the clothes you love to live in, with styles that include the following:
Slim
Skinny
Straight
Relaxed
Cropped
Ribcage
Boyfriend
Wedgie
Bootcut
Along with favorites like 501® Original Fit Jeans, you know us for our 512™ Taper Jeans, 711 Skinnies, 541™ Athletic Fit Jeans and more. We carry our standards for quality and style into all of our clothing items, including Western shirts, crewneck sweaters, Trucker Jackets and more.
Quality Denim That Lasts
Since our first pair of jeans, made more than a century ago, the Levi's® brand has stood for durability and value. From the California gold fields to today's laborers across many industries, our quality denim stands up to the rigors of work or play. Find your next pair at our jean store in Destin, a few blocks north of Miramar Beach.
Visit Levi's® Outlet at Silver Sands Factory Stores
Shop the Levi's® outlet in the Silver Sands Factory Stores, just off Emerald Coast Parkway West between the cross streets of South Shore Drive and Poinciana Boulevard. Access our mall directly from the Parkway, turning north into the parking lot at Poinciana. We are in the far northwest corner. Get directions and more information by calling our store at 850-837-4698.