Thu 9:00 AM - 9:00 PM
Fri 9:00 AM - 9:00 PM
Sat 9:00 AM - 9:00 PM
Sun 10:00 AM - 7:00 PM
Mon 9:00 AM - 9:00 PM
Tue 9:00 AM - 9:00 PM
Wed 9:00 AM - 9:00 PM
Thu 9:00 AM - 9:00 PM
Fri 9:00 AM - 9:00 PM
Sat 9:00 AM - 9:00 PM
Sun 10:00 AM - 7:00 PM
Mon 9:00 AM - 9:00 PM
Tue 9:00 AM - 9:00 PM
Wed 9:00 AM - 9:00 PM
no levi.com or Levi's retail store returns accepted
More stores near Glendale

no levi.com or Levi's retail store returns accepted

no levi.com or Levi's retail store returns accepted

no levi.com or Levi's retail store returns accepted

no levi.com or Levi's retail store returns accepted

no levi.com or Levi's retail store returns accepted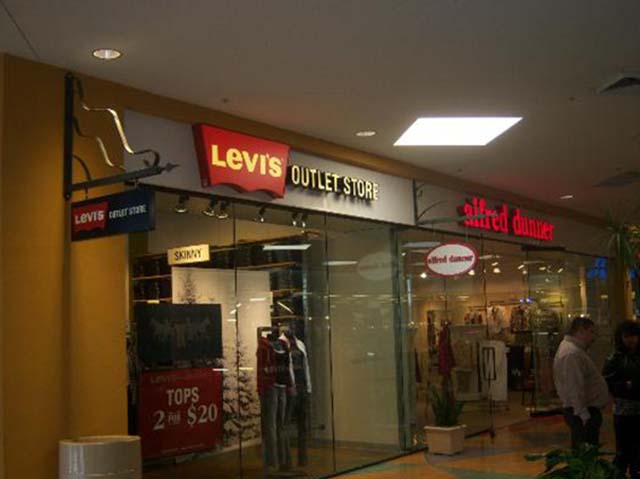 no levi.com or Levi's retail store returns accepted
Levi's® Outlet Denim & Jeans Store at Phoenix Westgate
From the desert to the mountains, Arizona can offer extremely diverse weather conditions. Fortunately, you can always be comfortable and ready in Levi's® clothing. Our jeans, tops, and jackets are perfect for layering, and every piece is designed to last for years and get more comfortable with time. If you're in Glendale, you can find your next outfit at the Levi's® denim store located in Tanger Outlets Westgate.
Durable, Classic Jeans for Men and Women
Levi's® has built a line of classic styles that can easily transition from work to weekend. Men can find the right fit with our collection of timeless jean styles, such as:
501® Original Fit
502™ Regular Taper Fit
512™ Slim Taper Fit
511™ Slim Fit
We also carry a selection of different fits for women. Some of our most popular women's styles are:
High Rise
Straight
Bootcut
Slim
Boyfriend
Skinny
We carry a wide range of sizes and denim colors in each style.
More Than Just a Jean Store
At Levi's®, we make it easy for you to build a modern and comfortable outfit. At our jean store, you can also find cozy crewneck sweaters and outerwear perfect for a hike in the mountains. Our Trucker Jackets are available with and without lining. We also carry T-shirts, hoodies, and Western shirts. Every piece we make is constructed according to strict quality regulations and accented with unique details. This dedication to quality and timeless style has set Levi's® apart for over 100 years.
Find Your Perfect Pair of Levi's® at Our Outlet Store
When you need a new pair of jeans for your closet, look no further than Levi's®. We have the right pair, whether you need something for a tough outdoor job or a night out with friends. Find your next outfit at our denim store in Tanger Outlets Westgate. We're located just east of the Agua Fria Freeway (Arizona Route 101), south of the West Glendale Avenue intersection. North 95th Avenue provides easy access to the shopping center. Within the building, we are located on the southwest side. To learn about store hours or get directions, call us at 623-772-7284.